Introduction

Stralizer aka Strava Visualizer is a superb and the most widely used activity/workout/sport visualizer software owing to its huge list of features. Its combines Strava activity with photo to create great looking design workout memories. Add customized graphic overlays like laps pace, map, route, elevation chart and activity summaries. Perfect way to share your achievements with friends, family, and the others in social media.
Why Stralizer?
Pretty easy to design Strava activity visualizer with a lots of feature, lets you create just about anything you can imagine, and completely free of charge.
Is It Free?
Yes, absolutely! :)
Requirements
Minimum Android 6 Marshmallow
Strava account of course
---
Download
Download Stralizer for FREE on Google Play Store
---
Other Apps
ViRun Pod (Virtual Running Pod)
Transform your smartphone as a Running Speed and Cadence (RSC) Sensor.
---
About Stralizer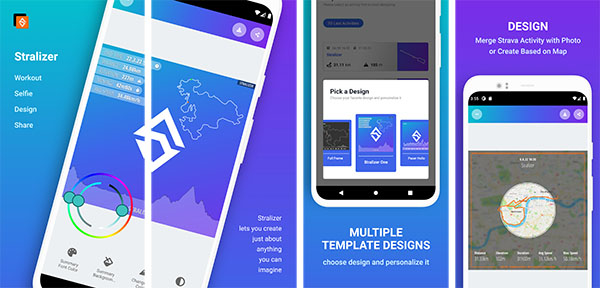 Features
Multiple template design, template will continue being updated in the future versions
Pretty easy to use, quickly create beautiful visual to highlight your activity
Custom graphic overlays such as laps pace, map, route, elevation chart, stats summaries
Completely customize routes/elevation/stats with tons of color, opacity, and style options
Several customization options for overlays and graphics
Change predefined-dimension size which look great
Add photo and apply little filter on it
Save high quality graphics to device photo gallery or share to social media
Template Designs
Available template designs (currently 10 designs):
Stralizer One by Stralizer

 
Pacer Holic by Stralizer

 
Lightning Road by Stralizer

 
Darken Road by Stralizer

 
Untold Story by Stralizer

 
Two-Thirds by Stralizer

 
Full Frame by Stralizer

 
Stralizer Zero by Stralizer

 
Strava Card by Stralizer

 
Simple Road by Stralizer

Known Issues
As you know, I can't test it in all phones. So if it can't work for your phone, just uninstall it, I'm sorry to waste your time. You also can send a mail stralizerapp[at]gmail.com to let me know your phone model, if I solve it, I will let you know.