Introduction

ViRun Pod aka Virtual Running Pod is a unique application that act your smartphone as running pod. Very suitable for use when walking/running on a treadmill to take your indoor workout to the next level. The application using dual-sensing sensor (accelerometer and physical activity sensor) to measurements walking/jogging/running data and sends them over the Bluetooth Low Energy to fitness application like Zwift, etc.
🏃‍♂️ What Is ViRun Pod?
Use your phone as a sensor while walking/running on a treadmill for Zwift, etc. It's perfect to work together with non-smart treadmills.
🏃‍♂️ Is It Free?
Yes, absolutely! :)
🏃‍♂️ Requirements
Minimum Android 5.0 Lollipop
---
Download
Download ViRun Pod for FREE on Google Play Store
---
Other Apps
Stralizer (Strava Visualizer)
Combines Strava activity with photo to create great looking design workout memories.
---
More About ViRun Pod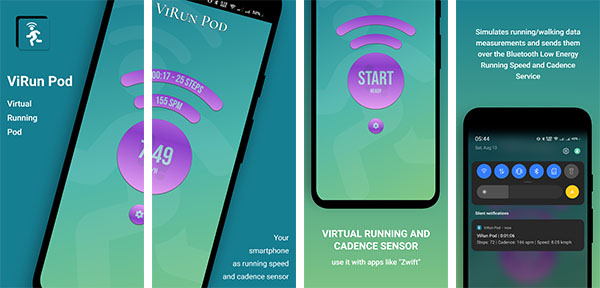 🏃‍♂️ How It Works
ViRun Pod use smartphone internal accelerometer and physical activity sensor that measures torso movement to calculate these metrics:
Total steps
Speed, it is measured in kilometers per hour.
Cadence, is the number of steps (left and right) per minute
Stride length, is the length in meters of your stride from 1 footfall to the next
And then broadcast calculated running speed and cadence data over BLE (your smartphone act as bluetooth peripheral/central device). Use it as a Running Pod and pair it with fitness application like Zwift on your computer or other smartphone.
🏃‍♂️ Using ViRun Pod
For best results, put your phone in running pants pocket, an arm band or take it in your hand.
🏃‍♂️ Use Case
Is it suitable for your walking/running? Absolutely YES, if:
You are running hobbies
You don't have access to a smart treadmill
You are fitness application user like Zwift
You don't have real running pod device (Garmin Pod, Stryd Pod, Coros Pod, Zwift RunPod, etc)
You are a runner to make indoor running fun again
You don't have smartwatch with virtual run features (Garmin, Coros, etc)
You are a beginner runner that care with indoor workout to the next level
You don't have heartrate sensor with running dynamics features (Garmin)
🏃‍♂️ How to Use
Enable bluetooth
Open ViRun Pod
Approve permissions (if requested)
Complete setup like gender and height (if requested)
Press start button (the RSC service is now live)
Open fitness application like Zwift on your computer or other smartphone
Scan for speed/cadence sensor and pair it (should be phone name [number])
Run
---
Informations
🔋 Battery
Please do not restrict background activity and disable battery saver for the app, the app need run as background activity in working perfectly.
📣 Important to Zwift User (Windows)
If you get disconnected regularly with ViRun Pod, it's because you are using built-in bluetooth and direct connection (default in Zwift). In this situation, you must use the Zwift Companion app on a second phone to connect with ViRun Pod.
🔧 Known Issues
As you know, I can't test it in all phones. So if it can't work for your phone, just uninstall it, I'm sorry to waste your time. You also can send a mail stralizerapp[at]gmail.com to let me know your phone model, if I solve it, I will let you know.
⚙️ Others
ViRun Pod is still under active development and will get more features as the app ages.