Hi, My name is Alfan L. Armansyah. This is my personal site where I talk about interesting things. I'm from Kebumen, Central Java, Indonesia and I'm currently working as a public servant in Banyumas Government.
Reading technology books & news, programming, coding, that's part of my life. I am not a programmer, but software (web) development have been an active hobby of mine since 2005. And this graph below describes my skills and experience in software development.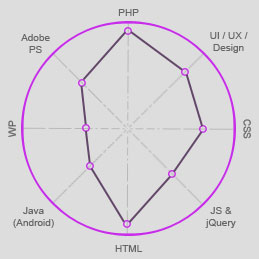 I'm perfectionist person, so I always feel there's room for improvement. I'm not intelligent but I'm flexible enough to learn thing. I'm committed to my personal development and spend time reading tech news, blogs, and books as a way to keep learning and becoming better. And if I figure something out, there's no doubt I'll talk about it here.
Thank for visiting my site! :)